The Avoco Trust Platform is highly modular and configurable and supports many types of implementation scenrios and use cases.
To try a working example use case of our software, visit our Amazon Test Drive at: http://aws.amazon.com/testdrive/security/
Video Demos
The following videos show examples of how to register for online and re-usable identities  and how to use them to single sign onto multiple web services. There is also a video showing how users can use their online service logins such as Amazon, Facebook Connect, PayPal, Twitter, etc. with their verified online identity
These videos show ways of using our identity platform, which is highly configurable and based on a plug in architecture, which can accommodate a multitude of different verification and credentialing services.
iGame for Online Gaming

Issuance and use of an identity that has been verified  – uses a federated login as first factor authentication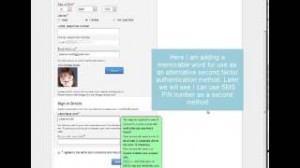 Single sign on and single logout from multiple website services

Registration for an online re-usable digital identity

Using Amazon (or similar) with your verified online identity