What is Trus-T?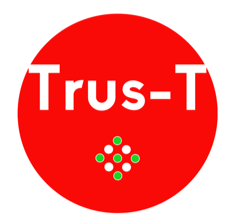 A service that provides the rails to create identity and data ecosystems
De-couple identity accounts from transaction – no account needed, seamless, on-the-fly attribute sharing for secure, privacy-enhanced transactions
Automated on-boarding of relying parties and identity providers – Trus-T provides the connectivity to hooks up an identity ecosystem.
Services can use the power of identity federation using established third-party identities to make user journeys and the UX fantastic
Your customers get an easy way to transact with you.
You no longer need to worry about storing sensitive data.
You no longer need to be concerned about providing secure account recovery.
Onboarding services to Trus-T is simple and fast.
The extended Trus-T service also provides:
Optional dynamic layering of attributes during a transaction to increase a level of assurance; this helps to increase trusted access and meet AML/KYC requirements
Event-driven transactions based on configurable rules
User consent as part of the design
Consents can be audited and held in an immutable record on a blockchain or traditional store
A low friction, highly trusted, scalable and secure cloud service is delivered at low cost
Trus-T has optional support for the use of different Blockchains
Powered by Avoco Secure's, proven, tried and tested technology used for accessing UK Government services
Trus-T powers the identity ecosystem and gives customers a reason to come back to your service.